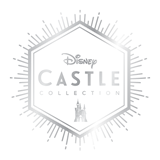 Disney Princess
Cinderella Castle launches the Disney Castle Collection.
Series 1 of 10 includes a high-end figurine & more.
Now available online and available at your local Disney Store at a future date.
Most Popular
Newest
Price (low to high)
Price (high to low)
Enter the gateway to pure enchantment with this delicate, highly detailed miniature reproduction of Prince Charming's castle as depicted in Walt Disney's animated classic Cinderella. Dramatic lighting and window vignettes highlight this limited release sculpt to create a collector's dream come true.
465055107324
465055107324
Open the gateway to dreams with this limited release journal featuring Prince Charming's castle as depicted in Walt Disney's Cinderella. Detail your heart's desires on the lined pages divided into sections by fully illustrated spreads. Pull-out poster, silver edging and a glittering bookmark charm add that special touch of magic.
466045520154
466045520154
EXTRA 25% OFF WITH CODE: SUMMER25
New Markdown
Fill playtime with all the fun and fantasy of this dreamy Disney Princess figure set. With a cast of seven fairytale favorites from Cinderella, they'll bring ''Once Upon a Time'' adventures to life happily ever after.
461075350283
461075350283
New Markdown
They'll step into sparkly style in these fancy shoes inspired by the glamour and royalty of the Disney Princesses. The glittering shoes will make quite a fashion statement as they strut their stuff around the castle.
5812057543818M
5812057543818M